About Strictly GI
Strictly GI is a UK-based living history group which focuses on the accurate portrayal of the US Army soldier during World War 2. Although we are based in the United Kingdom, we regularly attend events throughout mainland Europe, and enjoy working with other like-minded individuals and groups across the UK at various living history and private events.
Our History
From humble beginnings to accurate impressions.
Strictly GI was founded in 2013 by Ben and Chris Major, a father-and-son team based in Lincolnshire who between them have almost 50 years' experience in the World War II living history and collecting hobby. With a focus on accurate and immersive living history, Strictly GI now boasts a wealth of experience amongst its dedicated members, and our passion remains as focused now as ever.
Strictly GI is a remarkable living history group that passionately recreates the vibrant and unforgettable experiences of soldiers during World War II. Comprised of dedicated history enthusiasts, the group's members painstakingly research, study, and embody the lives of soldiers and civilians from the era. From meticulously-researched uniforms and authentic equipment to immersive living history events and displays, Strictly GI strives for historical accuracy in every detail. With a deep appreciation for the sacrifices made during the war, the group seeks to honor the memory of those who served and to educate the public about this pivotal period in history.
Our Members
The dedicated team behind Strictly GI.
Why "Strictly GI"?
Learn more about the origins of our group name.
The term Strictly GI was a common name for many publications during WW2, and was originally used by the Belgian re-enactment organization to name their group. After this group folded in 2011, Ben Major approached the former owner (Alain S. Batens) to request his explicit permission to use the name for a new venture, a move which Alain welcomed with open arms. It was agreed that our new group would continue in the tradition of the Belgian organization, striving for the highest standards possible. Alain goes on to explain the reasoning behind why his group was named Strictly GI: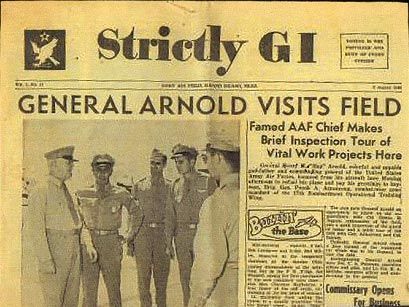 While researching data related to the US Army Air Forces in WWII, I incidentally stumbled across above newspaper, published and distributed by GIAAB (Grand Island, Army Air Base) Nebraska, ZI, home of the 6th Bomb Group (VH) . This unit already activated since September 1919 as the 3d Observation Group, was disbanded in the Panama Canal Zone in November 1943 . Reconstituted 29 June 1944 the new unit moved to Grand Island 18 November 1944 for training (B-17 & B-29 bombers) &ndahs; and was later transferred to the Pacific area as part of the 313th Bomb Wing, 20th Air Force, with base on the island of Tinian – the 6th Bomb Group (VH) flew B-29 missions in the Pacific and over Japan from 3 February up to 14 August 1945 and was credited with 6 Distinguished Unit Citations.

Alain S. BATENS; Striclty GI (Belgium)